Zaandam: Stolperstein memorials for the Eisendrath family
| | | |
| --- | --- | --- |
| Pic: Bernhard and Sortine Eisendrath in the 1920s | | Gunter Demnig, an artist from Cologne, Germany, is best known for his Stolperstein memorials to the victims of Nazi persecution. The project, which places engraved brass stones outside a former residence of a Holocaust victim, began in Germany but has spread to other countries. In October 2022 Stolpersteine were installed in Zaandam, North Holland in memory of 14 Jews from Zaandam including members of the large Eisendrath family who left Dorsten in the 19th century. Most family members emigrated to the USA and in 2010 the Jewish Museum of Westphalia organized a big five-day family reunion attended by around 60 members of the family. |
Bernard Eisendrath had studied medicine and in 1907 he passed his final exams. In 1914 he left the military hospital in Amsterdam to settle in Zaandam, first as a public health officer and later as a general practitioner and obstetrician. Two months earlier, on 13 March, he had married Sortine Selma Juchenheim. The couple moved to a well-appointed residence in a large house at 108 Botenmakerstraat. An Aesculapian staff in the wrought iron fence bears witness to the fact that this was once the home of a doctor. They had four children: Iris (born in 1915), Maja (born in 1917), Leonie (born in 1921) and Rudolf (born in 1923).
Pic: Bernhard and Sortine Eisendrath with their four children Iris, Maja, Leonie and Rudolf
Erik Schaap, a local historian from Zaandam, knows a lot about this family and their fate after German occupation (The Eisendrath branch in Zaandam). From May 1941 Bernard Eisendrath was only allowed to treat Jewish patients. The family was forced to move to Amsterdam where Bernard became a member of the Jewish Council allowing him to gather information on the fate of the Jews about to be deported. On 4 October 1942 Bernard ended his own life by taking poison.
Soon after her husband died, Sortine, her children and mother went into hiding. In early 1943 some friends found an apartment for them in Zaandam; they did not wear the Yellow Star and had forged papers. Unfortunately they were recognised by a policeman and arrested. They were first deported to the Westerbork transit camp and then to Sobibor and Auschwitz where they were murdered. Rudolf died in 1944 as a result of the harsh conditions at the Mittelbau-Dora camp where concentration camp inmates were deployed for forced labour.
Paul Eisendrath from Belgium was also there when the stones were placed. After a minute's silence, those present placed small stones around the memorial plaques on the pavement in front of the residence at 108 Botenmakerstraat. Paul Eisendrath laid the first stone. "My grandfather was Bernard Eisendrath's cousin." Paul still has two brothers who live in Belgium with their families.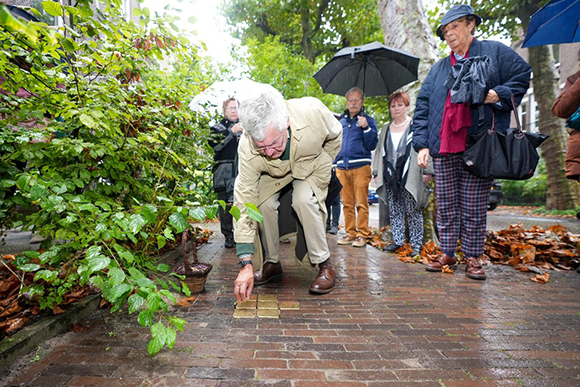 Pic: The Zandaam Stolpersteine
More information on the Zaandam Stolpersteine can be found at: www.joodsmonumentzaanstreek.nl (in Dutch).