The journey of two prayer books
In November 2014 a parcel from Winsconsin, USA arrived at the Jewish Museum in Dorsten: Edward Eisendrath – one of the participants in the already legendary 2010 Eisendrath family reunion in Dorsten – sent us two very special books that he had inherited from his father: prayer books, Mahzorim used on the High Holidays of Rosh Hashanah and Yom Kippur according to the Ashkenazi Rite from the year 1833 which, according to a handwritten entry, had belonged to his great -grandfather David Samson Eisendrath in Dorsten, had gone with him when he emigrated to the USA in 1867 and are now in our collection.
David Samson Eisendrath was the fourth child of Julia and Samson Nathan Eisendrath.
The volumes come from very well-known Jewish printers in Sulzbach (Bavaria) - see the Website
They contain not only the Hebrew text of the Mahzor and a (Jewish-) German translation (in Hebrew print cursive) but also at least one (Jewish-) German comment. Volume 1 is for the High Holidays of Rosh Hoshanah and Yom Kippur, volume 2 for the holidays of Sukkot, Passover and Shavuot.
The Museum is very grateful for this special gift. We will carry out detailed research into the history and importance of these valuable volumes, have them restored and later make them part of our permanent exhibition.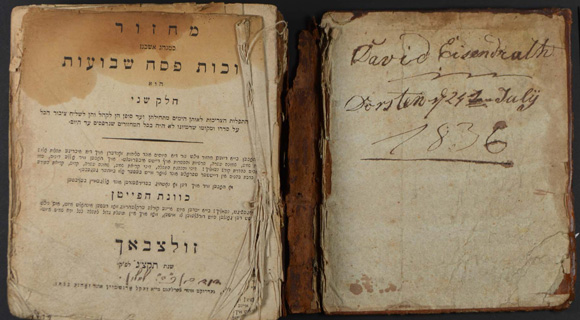 (Pic: A look at volume 1 of the prayer books)