Simeon B. Eisendrath, architect
Simeon Benjamin Eisendrath was born on 29 Aug 1866 in Chicago, Illinois. He was a son of Theresa and Benjamin Eisendrath and a grandson of Samson Nathan Eisendrath and Julia Eisendrath née Isaak from Dorsten. His father Benjamin – the eighteenth child of his parents – had come to the States in 1863.
He received his education at the Manual Training School and spent two years at the Boston School of Technology, learning about carpentry, wood carving, planning and study of machinery ect. Subsequently he studied architecture at the Massachusetts Institute of Technology in Cambridge, Massachusetts. In the late 1880s he returned to Chicago, where he joined the architectural firm of Adler & Sullivan.
| | |
| --- | --- |
| Arleta Louise Leczinsky | In 1890, Eisendrath established his own architecture company. According to the 1889 and 1890 editions of the Lakeside City Directory for Chicago, S. B. Eisendrath & Co. had its offices at 182 Monroe in 1889 and 153 Monroe and in 1890 on Dearborn Street. In the 1900 Directory, the registered office was listed at 203 Michigan Avenue. The 1900 census for Chicago says, that Simeon was living with at his mother's residence, 3504 -3500 Ellis Avenue. He married Arleta Louise Leczinsky, born about 1880 in San Francisco; the couple had no children. |
A number of commissions reflect Eisendrath's close link to Chicago's Jewish community – e.g. the design of buildings for the Michael Reese Hospital – an institution engaged in medical support for minorities, founded by the United Hebrew Relief Association.
| | |
| --- | --- |
| Furthermore he built a Home for Aged Jews and the Chicago Home for Jewish Orphans. Simeon Eisendrath served briefly as the Commissioner of Buildings in Chicago. He started in January of 1894 with grand plans of reform, but resigned at the end of that year. | Home for Aged Jews, Chicago |
One of his most outstanding developments was the Plymouth building at 417 South Dearborn Street, Chicago, completed in 1899. It displays the influence of his former employers, Adler and Sullivan: The two-story building is a mix of early steel-frame construction and an early example of cast-metal Sullivanesque with two primary facades on both South Dearborn Street, and Plymouth Court.
The Plymouth Building served as home to printing concerns, commercial artists, advertising agencies and press-related businesses.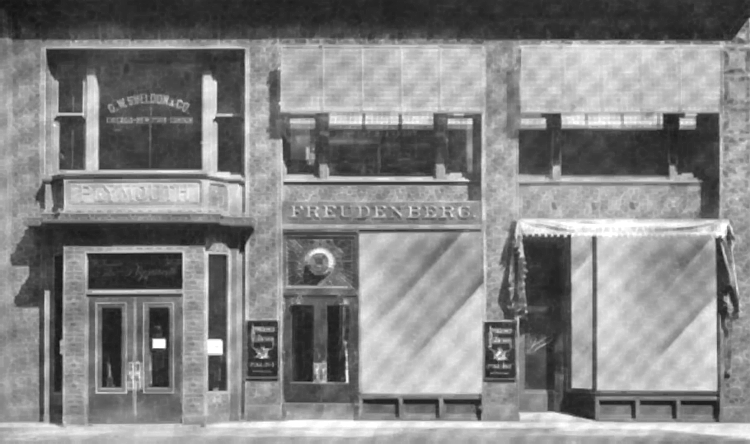 For more than three decades, i.e. from 1945 to 1978, the (slightly adapted) Plymouth building was used by the LaSalle Extension University, an early pioneer in distance learning, as its headquarters. This institute offered educational opportunities to hundreds of thousands of students throughout the world with limited access to higher education because of their race, gender, class or their physical location, and also for unemployed war veterans.
Advertisement of the LaSalle Extension University

An "Alumni Pin" for graduates
of distance-learning courses
(photo: Wikimedia/BayRadioDJ)

The "Chicago Architecture" website writes on the importance of this building. "The Plymouth Building, through its historic associations with the LaSalle Extension University (LSEU), exemplifies the significance of distance learning organizations to the economic and educational history of Chicago and the nation.( …) Founded in 1908 in Chicago by educators Jesse Grant Chapline and William Bethke, LSEU was one of the largest and most successful distance learning institutions in the country. (…) The Building is a small-scale example of the tall office building, a building type of significance to Chicago architectural and economic history. With its internal steel-frame skeleton and exterior masonry facades, the Building exemplifies the revolution in high-rise building design and construction that occurred in Chicago in the last two decades of the nineteenth century." ...learn more.
In 2016 the Plymouth building was registered as a landmark of Chicago's architectural and social history.
Eisendrath left Chicago for Pittsburgh soon after the Plymouth Building was completed, and he settled in New York City in 1903. Around 1910, Eisendrath partnered with architect Bernard Horwitz. Between 1910 and 1925, their company completed several major synagogue buildings, including the Temple Beth Elohim at 277 Garfield Place in Park Slope (1910), the Temple Beth Emeth at 83 Marlborough Road in Prospect Park (1913), Temple B'nai Israel at Fourth Avenue and 54th Street in Sunset Park (1917), and the Free Synagogue School at 28-36 West 68th Street on the Upper West Side of Manhattan (1923). Their firm also designed the Brooklyn Hebrew Home for the Aged and the Temple Shaari Zidek in Brooklyn – and a lot of movie theaters in Manhattan.
Simeon B. Eisendrath died on 26 November 1935 in Manhattan, New York. His widow Arleta passed away in 1950.
Many thanks to Clem Bonnell and Jack Quinn for the family information!